Our Mission is to enrich the program of Baltimore Area Council Scouts and Venturers by enhancing their awareness of international Scouting, and by promoting contact with Scouts of other countries. The International Committee meets quarterly at the Schapiro Scout Service Center.

CONTACTS
Chairman – Joe Scott at Joe_scott@troweprice.com 410-788-3420
Advisor – Stephen Reinhard at sreinhard@baltimorebsa.org 443-573-2534
Council International Representative – Burt Marsh at abmarsh3@comcast.net 410-381-2679

LINKED WEBPAGE CONTENTS
PARTICIPATE LOCALLY IN THE FOLLOWING International ACTIVITIES AND EVENTS
International ACTIVITIES AND EVENTS INVOLVING TRAVEL
SPECIAL NOTICE! INTERNATIONAL EVENTS OPEN HOUSE at SCHAPIRO SCOUT SERVICE CENTER, OCT. 231, 2018

Download the Oct. 23, 2018 Open House flier
Recognitions
ADDITIONAL SOURCES OF INFORMATION ON INTERNATIONAL SCOUTING

PARTICIPATE LOCALLY IN THE FOLLOWING International ACTIVITIES AND EVENTS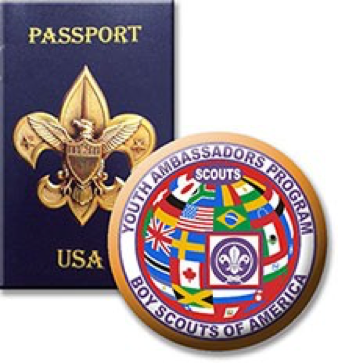 YOUTH AMBASSADOR PROGRAM - The "Youth Ambassadors Program" helps Scouts understand other cultures and develop international awareness. It's meant to be a continuing program, taking advantage of foreign embassy and cultural activities in Washington, DC, and/or local unit developed activities (e.g., Packs, Troops, or Crews using scouting around the world as a monthly theme. NCAC created a "Scout Passport" and a patch to compliment this program, which the Baltimore Area Council is now offering to our scouts. To purchase: click here.
Note: Passport DC sponsors a month-long journey around the world highlighting DC's thriving international diplomatic community and its lively and varied culture. Its celebrated annually in May, which is International Cultural Awareness Month in Washington.

Scout Scarf Day (August 1st) - The idea of "Scout Scarf Day" is that all active and former scouts are requested to wear their scout scarfs in public to make the "Spirit of Scouting" visible: Once a Scout - Always a Scout! The date of the event commemorates the very first Scout Camp on Brownsea Island in 1907. For more information click here.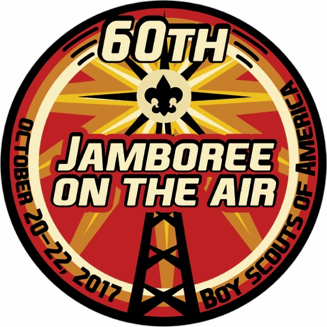 JAMBOREE ON THE AIR (JOTA) - Jamboree-on-the-Air, or JOTA, is the largest Scouting event in the world. It is held annually the third full weekend in October. JOTA uses amateur radio to link Scouts and hams around the world, around the nation, and in your own community. This jamboree requires no travel, other than to a nearby amateur radio operators' ham shack. Many times, you can find the hams will come to you by setting up a station at your Scout camporee, at the park down the block, or perhaps at a ham shack already set up at your council's camp. For more information click here. BAC JOTA Event – click here.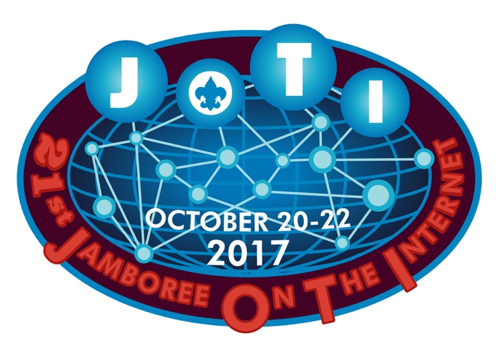 JAMBOREE ON THE INTERNET (JOTI) - Jamboree-on-the-Internet, or JOTI, is an annual international Scouting event sponsored by the World Organization of the Scout Movement. Each year, during the third weekend in October, Scouts from around the world gather online to learn about other cultures and the activities in which other Scouts participate. They communicate with each other using Internet-enabled devices such as computers, laptops, tablets, and mobile phones. Last year, JOTI had nearly 16,000 Scouts and leaders from 146 countries registered in the worldwide JOTA-JOTI database! For more information click here.

International ACTIVITIES AND EVENTS INVOLVING TRAVEL
Baltimore Kawasaki Delegation - Venturing Crew 3776
The Baltimore Kawasaki Delegation is an extension of the Baltimore and Kawasaki, Japan sister city program. The scout exchange began in 1985 and is the longest running activity of the sister city program. It is a scouting-based cultural exchange program where scouts visit each other in alternating years. Venturing crew 3776 (significance of the number is the height of Mt Fuji in meters) was formed as the scouting unit for the exchange program. It is a co-ed Crew, as boy and girls participate in scouting in Japan. Details click here. 2017 Flyer click here.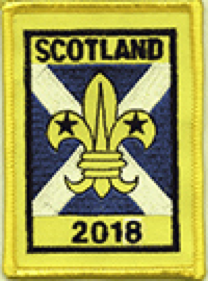 Blair Atholl Patrol Jamborette (Scotland) - The 36th Scottish International Patrol Jamborette will be held in July 2018, at Blair Castle, Blair Atholl, Perthshire, Scotland. The camp will be open to Scouts (and Venturers and Sea Scouts) who are at least 14 years of age and under 18 years of age on July 16, 2018. For more information click here.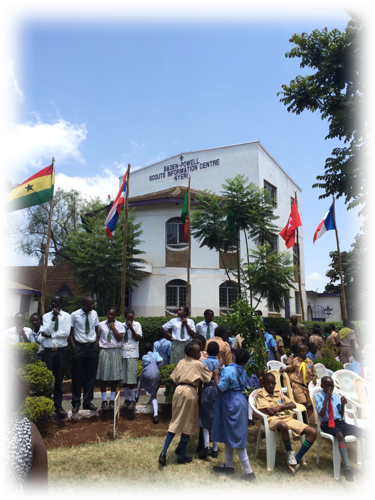 BSA KENYA SCOUTING TRIP (Service, Partnership and Education Experience: 15-24 February 2019) - Servant Forge is hosting a group of 25 scouts and scouters from the Boys Scouts of America (BSA) to Kenya. Servant Forge looks to create servant leaders within the communities they serve and it is a perfect partnership with BSA and the Kenya Scouting Association (KSA), who seek to develop youth leadership, foster community service, and develop a moral compass. For more information click here.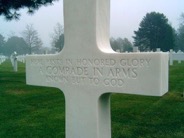 BAC Normandy Trip (celebrating the 75th Anniversary of the D-Day Invasion) - The Baltimore Area Council is sponsoring a trip to the Transatlantic Council's Normandy Camporee. Prior to the Camporee, participants will visit related historical sites in England, including Churchills's War Rooms, Bletchly Park, the RAF Museum and the British Tank Museum. In France, they will visit Utah and Omaha Beaches, Pointe du Hoc, the Bayeux Tapestry Museum, St. Mere-Eglise and the American Cemetry. These are just a few of the many sites to be visited. For more information click here.
2019 WORLD JAMBOREE – The 2019 World Scout Jamboree will be held July 22nd through August 2nd, 2019, at The Summit Bechtel Reserve in the beautiful mountains of West Virginia, USA. Unlike any other youth event, a world Scout jamboree invites you to surround yourself in the cultures of the world by joining your new Scouting friends at a single destination for 12 unforgettable days. The jamboree experience extends beyond your home—and beyond the boundaries of our host countries—to create a global adventure that will last a lifetime. For Boy Scouts & Venturers, their leaders, and an International Service Team staff.
World Jamboree website: click here. BSA Contingent website: click here. A promotional presentation is available here and a Northeast Region flyer is available here.
BSA attendance at this World Jamboree is limited, both for participants and staff, so early application is encouraged. The Area has tentatively allocated one Boy Scout Troop and a partial Venture Crew to our Council, but that can be adjusted up or down depending our success in recruiting. Early application is encouraged and there is a discounted fee for those applying by 31 January 2018 and making all payments on time. Apply here now.
The Council World Jamboree Chairman is Burt Marsh (abmarsh3@comcast.net). Dan Young (dyoungcpa@gmail.com) is a Promotion Co-Chair for Scout, Venturer & Leader applicants for the Troop and Venture Crew and Steven Wolfe (swolfe2@cablespeed.com) is a Promotion Co-Chair for International Service Team (i.e., staff) applicants. A Northeast Region flyer is available here.

Kandersteg International Scout Centre (KISC) - Kandersteg is a Scout Camp located 65 kilometers south of Bern, the capital of Switzerland, in the Bernese Alps. KISC began in 1923 with Lord Baden-Powell, the founder of World Scouting, who after the first World Scout Jamboree had a dream about a place where all Scouts from all over the world could meet. His dream came true and now YOU have the opportunity to visit Kandersteg International Scout Centre and live YOUR Dream! It couldn't be easier to reach Kandersteg whether by road, air or using the world famous Swiss rail network. For more information click here.

Recognitions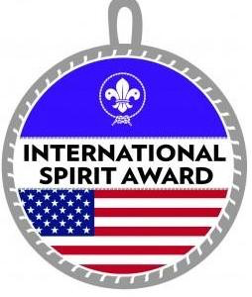 The International Spirit Award is a temporary emblem that is awarded to registered Cub Scouts, Boy Scouts, Varsity Scouts, Venturers, and Scouters who have completed the necessary requirements, have gained a greater knowledge of international Scouting, and have a greater appreciation and awareness of different cultures and countries.
This award serves as a replacement for (and therefore eliminates) the International Activity emblem and the Youth Exchange emblem.
International Spirit Award emblems cost $4 each and can be purchased from the International Department. Fill out the application (available here) with the date that each requirement was completed. All requirements must be met within five years from the start of the award. Please mail the completed, signed application and a check (made payable to Boy Scouts of America) to:
Boy Scouts of America, International Department, S221, 1325 West Walnut Hill Lane, P.O. Box 152079, Irving, TX 75015-2079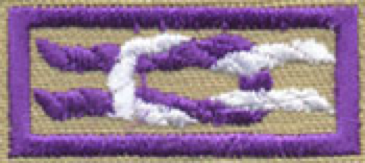 The International Scouter's Award encourages Scouters to broaden their involvement in Scouting through participation in world Scouting activities and recognizes Scouters for their contributions to world Scouting. Download an application form here.

ADDITIONAL SOURCES OF INFORMATION ON INTERNATIONAL SCOUTING
BSA'S INTERNATIONAL DEPARTMENT
http://www.scouting.org/scoutsource/International
Newsletter
WORLD ORGANIZATION OF THE SCOUT MOVEMENT