Sponsored by the Baltimore Area Council
Comprising 4 segments through various neighborhoods.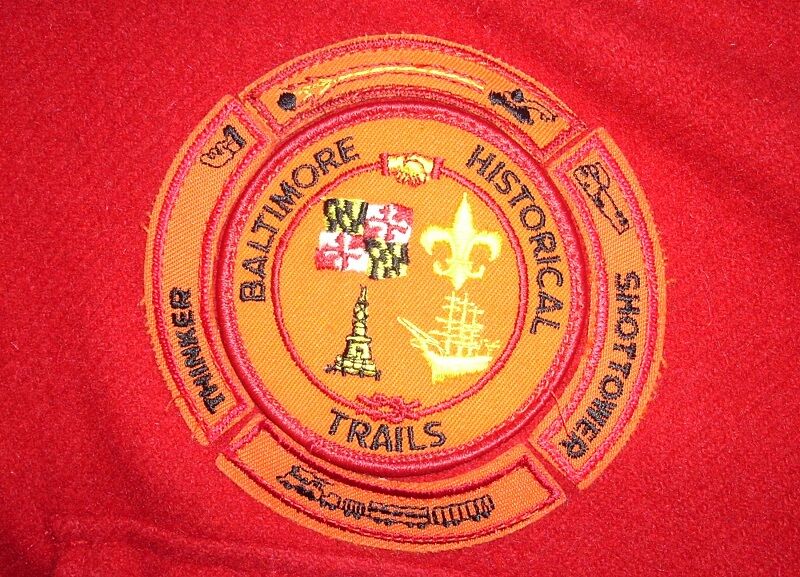 Requirements:
Registered youth and adult members of the BSA can qualify for the Baltimore Historic Trail Awards.
All hikers must wear as much of the official uniform as possible.
BSA policy requires two (2) adult leaders on all trips and tours.
The tour leader in charge must be at least 21 years old and accompany the group at all times.

Baltimore Historic Trail Segments:
1. Cannon
2. Shot Tower
3. Railroad
4. The Thinker

Segments are at least 5 miles each, and can be extended by visiting nearby historic sites, museums, government buildings

Related camping/sleepover opportunities:




* USS Torsk




* USCGC Taney




* John Brown (Liberty Ship)




* Chesapeake Lightship 116




* USS Constellation

Religious Services:




RC Cathedral (Cathedral St)




First Unitarian Church




Lloyd St Synagogue

Food:




~highlights only~




HarborPlace is the best known




Science Center, Little Italy, Cross Street Market




(Turkish restaurant Charles St)




The Walters Art Gallery




Baltimore Museum of Art




Lexington Market





Baltimore City Government Seat




Maryland State Office Complex




Federal Building, Courthouse

Medical:




Emergency Rooms: Mercy Hospital, Johns Hopkins, University of Maryland (to name but a few)




Non-emergency: urgent care facilities such as Express Care, Patient First, etc.

Restroom and Water Stops:




With a large group, plan rest stops accordingly as private businesses such as restaurants may turn away non-customers.




Large downtown facilities are likely to have water fountains, restrooms, and benches (indoor or out) with great vistas.




Area Maps:




The original Baltimore Historic trail maps are reproduced in the Leaders Guide; note these are over 50 years old.




New trail maps produced by Baltimore artist Tom Chalkley in 2011.




So many automated map options exist today none are listed. Keep your head up on the trail and out of any screens.




- -
Additional Hiking Trails:
Defenders Trail